---
---
May 1, 2021: Charity Sew pattern review of ditty bags, pillowcases and other items
May 15, 2021: Hope Family Services Bag with Lou
Members made wheelchair and walker caddies, fidget mats, small pillow covers, journal covers, foley bag covers for Tidewell Hospice.
They made cotton flannel receiving blankets for Healthy StartSarasota  and did costume sewing and alterations for Circus Arts Conservatory in Sarasota. 
They also knitted and crocheted newborn hats for Manatee Memorial Hospital NICU/newborn units .
2021 Community Service Awards:
Paulette Braga, 
Nancy 
Ceci, 
Marie 
Gartley, 
Donna 
Lundquest,
Lorraine Potter
, 
PegTurner
---
We kicked off the year in style at Waldemere on January 15, 2020 during our Chapter's Community Service Sew Along 
We made dog beds, neck scarfs and bags to donate to the Charlotte County Humane Society. Many brought their sewing machines and equipment and enjoyed a day of sewing for homeless Animals. Those without machine, helped to cut and iron fabrics. 
2020 Community Service Awards: Sandi Dickenson, Donna Lindquist, Eva Winter and the members of Pins & Needles NG.
---
In 2019 we sewed 527 needed item for 20 different charities. Our 113 members reported donating 5960 hours In community service sewing. We were very thankful to recieve fabric and notions from 17 local donars.
2019 Community Service Awards: Glenda Blomquist, Marie Gartley, Donna Lundquist, Kathy Pell, Lorraine Potter, Donna Verstrate, Eva Winter
---
In 2018 our Chapter Members reported nearly 4,000 hours crocheting newborn hats, sewing baby blankets, children's clothing, totes, quilts, clothing protectors and Christmas stockings. The following organizations benefitted:
1. St. John Methodist Church
2. St. Thomas More Catholic Church
3. Lutheran World Relief  / Emmanuel Lutheran Church
4. Oak Park School
5. Homeless Shelter / Missionary Needs
6. Safe Children's Coalition
7. Christmas Stocking for Military / Blue Star Mothers
8. Sarasota Memorial NICU / OB Unit
9. 4-H Sewing School
10. Linus Project of Charlotte County
11. Gulf Cove Methodist Church
12. KIDZ Quilts 
2018 Community Service Awards: Brenda Broadbent, Kathy Pell, Shirley Spisak, Barbara VanBuren, Eva Winter
---
Our chapter has had a busy Spring and Summer this year with community service projects. Our community Service Project of Stockings for Soldiers was very important to our members. We sent 3 boxes with 245 stockings made by our members and 4-H Sew Camp participants (43) to the Blue Star Mothers organization. I am particularly proud of this effort as I have many relatives that have served in the military. 
As a former teacher, another community service project that I am proud to be a participant is the ongoing Journey Bags for Foster Children.  Many of you have been busy making bags for children who are often given a plastic trash bag for their belongings. Shirley Spisak and Brenda Broadbent brought this need to our attention. Please contact them if you want to help m
On another note, I have one more opportunity for our members to help those that need our sewing talents.  Oak Park School in Sarasota serves all the children that are not able to be resourced in main stream schools because of disabilities. They need Bibs for their students that have a variety of health problems. We will meet at the Waldemere Fire Station Community Room on August 15th 
to make bibs.  See pictures and information on our web site and get patterns from your NG leader. 
Thanks to you, our members, for using your many sewing talents to help improve the lives of others!
Lou Burns, President SGCASG
Oak Park School Clothing Protectors
Bibs for Oak Park Kids
Big Kid yardage needed- try to use kid friendly material
1-yard main fabric- front and back -100 % cotton
1-yard cotton flannel- hidden layer- makes 4 inner layers
2-3-inch piece Velcro fastener
Fabric listed will yield two Big Kid bibs.  ½ inch seam allowance is included.
Adult size bib
1-yard main fabric- makes one bib
1-yard cotton flannel-hidden layer makes two inner layers
3-inch piece Velcro fastener
Sewing Instructions- ½ inch seam allowance 
1. Cut out pattern pieces:  Cut one front, one hidden layer and one backing piece  and one neck piece for each.
2. Using ½ inch seam, sew the neck piece to each of the front, back and flannel pieces. Finger press seam open.
3. Layer the front right side up, next the back, right side down and the flannel on top. 
4. Pin the layers together.  Stitch all the way around, leaving a 3-inch opening in the bottom for turning. 
4. Trim seam allowances around each curve to a scant ¼ inch before turning.
5. Turn through the opening. Push all the curves and corners out neatly and press.
6. Top stich all the way around at ¼ inch.
7. Center the soft piece of Velcro on the neck piece about an inch from the end. Sew around twice. Sew the rough piece of Velcro on the rounded portion of the bib. Center about 1" down.  Stitch around twice. The neck of the Big kids Bib should be about 4-1/2" straight across. The Adult size should be about 7 ½". 
CHRISTMAS STOCKINGS FOR DEPLOYED TROOPS
We sewed up 274 stockings for military in service in 2018!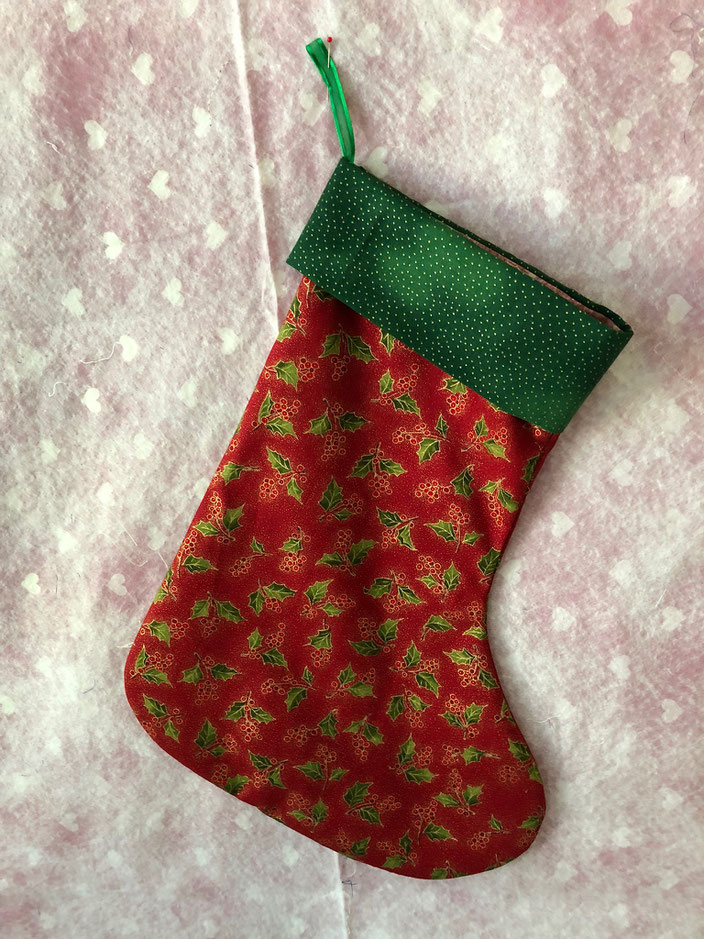 ---
Our members made Wish Pillows for "Give Kids the World" at the Gulf Gate Library in 2017. We brought sewing machines, fabric and notions and the project came together under the guidance of Paulette Braga.
Give Kids The World is an experience that takes many words to express. The brave parents and their amazing children share more joy in a day than most people experience in a life time by ensuring that every venue, activity and villa fully accommodates all of our precious guests. From The Park of Dreams pool to The Garden of Hope pathways, everything at our whimsical Village is wheelchair accessible. ASG members are sewing up these sweet wish pillows and praying that all of their wishes could come true.
---
Our Chapter sponsored a Community Service 2016 Chapter Charity Sew Along at the Selby Library in Sarasota in August by sewing Rare Bears for kids!
Member's of Sew Whats New met at the Fruitville Library each month to sew up  KiDZQuilts for children surviving disasters.  Our Venice members worked with a residential facility in Englewood to sew up Little Dresses for Africa and piece together quilts for Project Linus during February/March. 
We hosedt ASG promotional and demonstration booths at the Manatee County and Sarasota County Fairs and at the Manatee Village Historical Park festivals. 
Each of our Neighborhood Groups also sewed for local area charities.
---
For the year 2016 our Chapter Members reported over 1500 hours, 824 items sewn and donated nearly $500 dollars to complete community service projects.
---
In 2015 our Chapter Members reported 3,250 hours donated, 942 sewn items donated and $293 donated out of pocket for materials.